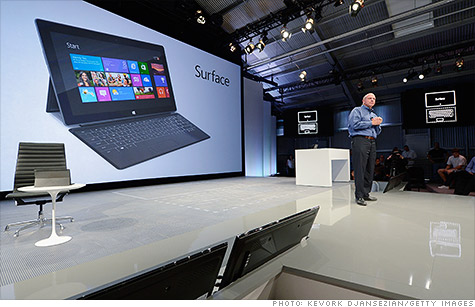 PR pros: we've all been there. Staring at an account's announcement pipeline, you notice that one week looks particularly crammed… "Oh, wow, look at the third week of June!  We have a customer win, an award finalist announcement, and a new hire all within five-days!"
Well here's what Microsoft's week looked like:
Launch your version of the iPad. Enter the technology hardware industry. Reignite a once-bitter competition with Apple.
Announce a new smartphone featuring a radically redesigned operating system that looks nothing like your eleven-figure M.O. for the past 20 years.
Buy another company for a billion dollars.
Oh yeah, and…
Leak the news of the aforementioned billion dollar acquisition the week before, so that everybody is already talking about you anyway.
Imagine what that looks like on your weekly call agenda.
—
Perhaps a little bit jealous of the whole "they changed the way we live and interact with each other" accolades Apple has been receiving, Microsoft has recently made a concerted effort to get back in the limelight, and to reclaim their position as a technological force with which to be reckoned. Two weeks before July 4th, the software company has been setting off fireworks left and right. Last Thursday both Bloomberg and the Wall Street Journal reported that a major deal was in the works in which enterprise social network provider Yammer would be bought by Microsoft for $1.2 billion.
At the same time, Microsoft had leaked a mysterious press event for this past Monday. Rumors were swirling that the event would be the official announcement of the Yammer acquisition, but not everyone was so sure about that. Were they buying another company as well? Was there a new product launch? A partnership with Barnes & Noble? The announcement…had become an announcement (a meta-announcement if you will, and all other technology PR firms promptly cleared their schedule. Meta-announcements usually result in no other companies receiving coverage for a few days.).
In actuality, the press event was for the launch of Microsoft's tablet, the Surface. Surface is a drastic departure for the software company, because it isn't software. As you have probably noticed, most of Microsoft's products comes on other hardware, like a Dell or HP computer/laptop. By all accounts, the Surface  looks pretty cool, and solves the pesky problem of how to type on a tablet. Will it be Holy Grail of tablets, the much sought-after "iPad killer"? We will see, however, much speculation has been made as to how Microsoft's hardware partners have taken the news.
Yesterday, Microsoft announced Windows Phone 8. It features the touch-screen centric Windows 8 OS, a digital wallet service, the sharpest screen ever for a Windows phone, video calls, and a whole bunch of multi-tasking features. Google, Apple- move over. It's Jurassic Park and the dinosaur is hungry.
Microsoft certainly kicked off the summer with a bang. I am very interested to see what they have in store next. From what I've been reading via Twitter, even the events they put on this week for these new announcements were very Jobs-esque. Have they refocused efforts in the consumer market? Is hardware something they will further develop? Do we have more meta-announcements on the way? Is it the 1990's and Microsoft is cool again? Only time will tell, but all of a sudden it feels like time is moving backwards…
Image courtesy of CNN